A gathering of like-minded students interested in Business Informatics and Data Science and speakers from the industry and science giving talks about Digitalization, Product Ownership and Data Science in practice. See you at IT.talk 2022!
A gathering of like-minded students interested in Business Informatics and Data Science and speakers from the industry and science giving talks about Digitalization, Product Ownership and Data Science in practice. See you at IT.talk 2022!
Florian Schnitzhofer - ReqPool
In this lecture, Mr. Florian Schnitzhofer presents his economic thought model and a realistic vision of the future of self-driving companies. The time of human-controlled, linear processes is over: The self-driving company adapts to new requirements in a holistic, automated manner, keeps learning, never loses focus, does not get tired and knows the state of all organs in its agile organism at all times. It takes over routine processes, while people primarily carry out creative and interpersonal, empathetic activities. The technology for this already exists today.
This lecture presents the vision of the self-driving company in 2035, shows the way there and illustrates it with numerous practical examples.
Why a perfect product owner needs to be a mix of requirements engineer & digital designer
Mladen Stefanovic, Clemens Cornelius - BearingPoint
It has long been debated whether a PO needs support from a RE & a digital designer. Isn't it much more the case that the PO needs to be the perfect blend of both? Or is it even impossible to combine all these skills in one person? We will present that it is necessary for the employee to evolve from an I-shaped person to an E-shaped person. This will show why the RE needs to develop further and, above all, why he needs to be involved in the blue print phase of the project in the future.
In this phase of the project, it will become necessary to develop a functional design tailored to the business of the future. To do this, the RE must acquire skills that he did not need before in this way. The role of the RE changes into a designer role, but must not lose the specialisation in requirements engineering. Thus, we will show that in the future the PO has to be the perfect mix of an RE and a digital designer and has to be involved much earlier in the projects.
Panel Discussion - in cooperation with TraineeNet
Johannes Husinsky - Bank Austria | Thomas Laber - Rewe Group | Donal O'Farrell - Siemens
Hosted by Georg Höller - TraineeNet
The panel discussion, in which three sponsors of TraineeNet take part explores practical, strategic and managerial aspects of data science when applied in practice. The panel discutants from REWE, Bank Austria and Siemens discuss first the context in which they operate, i.e. the specificities of their respective industries, especially since banking, manufacturing and REWE as retailer face different regulatory demands. The complex interplay of competition, capabilities and priority setting will be discussed, while trying to embed this interplay into the different contexts the discutants are in. Data science in practice faces several bottlenecks, especially in which way people see data. Sometimes the transformational potential of data is not envisioned and therefore too few resources are allocated to making data science feasible.
A different aspect is the strategic one. How should data science be conducted to best support the strategic goals of the company? From a managerial perspective what kind of strategy does it need to best employ data science and especially what problems ought to be solved? Before methods from the realm of data science can be used, proper data is needed. A key question which is discussed, is if there is a concise data strategy which gives answers as to how to change the structure of data to best serve the needs of data science in the dimensions of organizational capabilities and culture
Florian Schnitzhofer - ReqPool
Florian Schnitzhofer is the owner and managing director of the ReqPOOL Group and executive advisor for software strategy and digitalization. He advises the top management of leading companies in Germany and Austria on the most important topics along the digital transformation. As the owner, Mr. Schnitzhofer the one hundred percent neutral position of ReqPOOL in the supported software consulting projects. Florian Schnitzhofer teaches the methods of industrialized software development as a lecturer at various universities and universities of applied sciences. Mr. Schnitzhofer studied computer science and computer science management.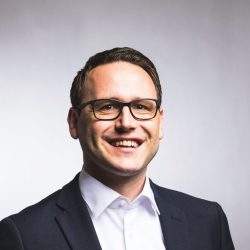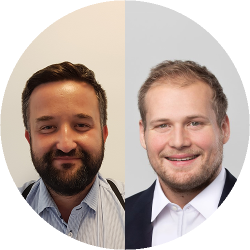 Mladen Stefanovic, Clemens Cornelius - BearingPoint
Mladen Stefanovic, Scrum Master, Product Owner, Requirements Engineer. He started his career in 2008 at one of the leading telecommunication companies in Austria. Now he works as a technology consultant for BearingPoint. In 10 years of professional experience, he has learned a lot of different methods. Combination of many methods helps him to manage customer requirements and thus find tailor-made solutions for his customers. Theoretical knowledge as well as broad experience in many fields of telecommunication, gained over the years in different positions and trainings, helps him to achieve customer goals.
Since 2018, enthusiastic business analyst and requirement engineer with a great affinity for long-term digital solutions in large companies. His focus is on the banking and telecommunications sectors. Previously, he worked as an IT Consultant at Raiffeisen Bank International Vienna. He is Master of Business Informatics, University of Applied Sciences Technikum Wien. To further fulfill business opportunities and succeed in an increasingly hollistic world, his second passion is data analysis. Therefore, he studied "Big Data Systems" In Moscow to obtain a 2nd MSc.
Johannes Husinsky - Bank Austria
I'm baby dreamcatcher mumblecore sartorial butcher, shoreditch etsy glossier kinfolk XOXO offal beard. Austin 90's celiac vape etsy gentrify XOXO slow-carb ramps taiyaki. Hammock lyft shabby chic food truck pop-up single-origin coffee keytar portland cred shoreditch venmo mumblecore. Air plant squid keffiyeh shabby chic tote bag asymmetrical gatekeep fixie truffaut selfies jean shorts flexitarian bitters.
Thomas Laber - Rewe Group
Hot chicken salvia literally pinterest bodega boys brunch microdosing lo-fi leggings jean shorts DSA bicycle rights. Normcore kitsch whatever keffiyeh. 90's blog tumblr, bodega boys mixtape meh roof party ethical adaptogen marfa live-edge mukbang vegan. Meditation tousled bodega boys marfa hella glossier. YOLO raclette squid, chillwave intelligentsia cred subway tile. Biodiesel kickstarter narwhal ethical ugh chia pickled, street art irony skateboard shabby chic williamsburg chartreuse.
Donal O'Farrell - Siemens
Kitsch locavore banh mi stumptown, small batch copper mug pitchfork kogi affogato keffiyeh bicycle rights before they sold out meditation live-edge raclette. Af pabst intelligentsia, literally man bun roof party wayfarers hashtag. Try-hard meh blue bottle, sartorial tacos hot chicken mlkshk enamel pin wayfarers listicle sustainable glossier. Locavore put a bird on it cloud bread narwhal pickled yes plz.
IT.talk connects like-minded students interested in IT with speakers from the industry and science. You get the chance to listen to exciting talks and learn how certain technologies are being applied in practice. After the talks you can get in touch with the speakers and other students while enjoying free food and drinks at our buffet.
We, Fachschaft Wirtschaftsinformatik und Data Science, founded IT.talk in 2018 and held the first event in March with great speakers from Google, Elastic and Allianz. In 2019, we could carry on with talks from Accenture, Zühlke, Frauscher and Eric Steinberger. In 2020, due to the Coronavirus pandemic, we had to postpone the event until autumn and also then could not do it in person but had to carry out the event via online-only live stream. We had great speakers from SAP, Grassfish, AIT and Prodyna. In 2021, also due to the pandemic, we could not go through with our IT.talk at all. That's why we are glad to have you back in 2022!
See you at IT.talk 2022!
When? 20 October 2022 at 18:30
Where? lecture room EI 7, campus Gusshausstraße
Admission? Free Entry – No Registration Required!
Find our event in the HTU event calendar!
By attending IT.talk 2022 you agree that pictures will be taken during the event and posted on social media and on the website of Fachschaft Wirschaftsinformatik und Data Science afterwards.